By public transportation
The Linnaeusborg is located at the Zernike campus in the north of the city of Groningen. From the main railway station several city and regional buses will take you to the campus; bus 15 is a direct line that will take about 15 minutes. Get off the bus at bus stop 'Nijenborgh' in front of a distinctive blue building, the Bernoulliborg. Walking around you see a distinctive green building ahead, the Linnaeusborg. Its main entrance is located under the marker dot on the campus map. You can find up-to-date information on the websites of bus company
Qbuzz
, railway company
NS
en public transportation planner
9292
​, or download the Android/iOS apps
Bustijden
,
NS
or
9292
for live info en route.
By bicycle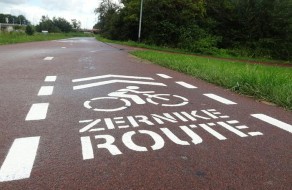 It is also possible to rent a bike at the railway station, the 'OV-fiets', for € 3.85 per journey (up to 24 hours). There are two 'smart cycling routes' that will take you to the campus in 15-20 minutes. The smart cycling routes are clearly indicated by signs and markings on the road, and start either at the railway station (western route) or in the city centre (eastern route). The
eastern route
provides the most convenient connection to the Linnaeusborg; during summer 2019 the western route is partially obstructed due to roadworks. The final leg of the route ends besides the Linnaeusborg, next to the entrance of its bicycle shed (take the steps down).
By car
Traffic roads on the Zernike campus are mostly restricted to buses. Car park P4 is the parking lot closest to the Linnaeusborg; to enter you need to take a ticket by pushing the round button. Note: you will have to exchange this entry ticket for a valid exit ticket at the Linnaeusborg reception desk! For TomTom users: using the address 'Zernikepark 1' will take you directly to the parking lot; the address refers to a small building next to the entrance of the car park. From the parking lot it is a 4-5 minute walk to the Linnaeusborg; take the footpath between the Willem Alexander Sports Center and the Marie Kamphuis Borg. To your right you will see a distinctive blue building, the Bernoulliborg, and to your left you see a distinctive green building, the Linnaeusborg. Its main entrance is located under the marker dot on the campus map.
Visiting address
Linnaeusborg (5th floor),
Nijenborgh 7,
9747 AG Groningen,
the Netherlands
Email contact